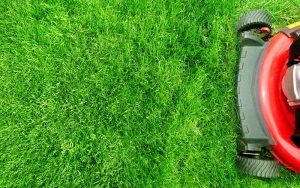 Do you suffer from lawn envy? Do you watch baseball games just to admire the grass? Does the sight of a thick, velvety, healthy, brilliantly-green lawn with crisp edges bring tears of joy to your eyes? At TurfPride, we totally get it; we love beautiful lawns, too. We're here to make certain you feel that sense of pride and joy about your own lawn every time you walk out your door. Our lawn services are guaranteed to take the worry out of lawn care and make your lawn the envy of the neighborhood.
Residential Lawn Care Services in Atlanta
TurfPride is the number one provider of comprehensive lawn care services in the Atlanta Metro area. We offer residential and commercial lawn customers our Signature Lawn Care Program. Our careful analysis of your lawn helps us design a lawn care program tailored to your specific conditions. Our lawn care experts analyze the soil, sunlight conditions, insect populations, watering trends, and a number of other factors to get a clear picture of the environmental factors that influence the health of your lawn. Then, our 8 seasonal maintenance visits nourish and protect your lawn so it can look its best throughout the growing season. Regular lawn care from TurfPride means you'll never again need to worry about the following lawn care problems.
Feed the Green — How and When to Fertilize
Proper nutrition is as critical to the health of your lawn as it is for your body. Soil needs a ready supply of nutrients to produce lush, healthy, green grass. But there's more to successful fertilization than simply dumping on a bag of all-purpose fertilizer from the hardware store a couple times a year. Effective fertilization routines consider carefully these three factors: ingredients, amounts, and scheduling. TurfPride lawn care in Atlanta takes the guesswork out of these components and makes sure your grass gets the right nutrients in the right amounts at the right time.
Defeat the Weeds — How to Win the Battle
Weeds. Just the word itself sounds annoying. If you love your lawn, you are constantly patrolling to guard against weeds. Weeds are an unsightly, unattractive enemy bent on destroying your lawn. Almost nothing else can ruin an otherwise gorgeous lawn as thoroughly and effectively as weeds. Weeds compete with healthy grass for critical nutrients and space and, if left unchecked, weeds usually win these battles. To make matters worse, their takeover can seem to happen overnight. Sometimes it feels as if it rained weeds; a lawn that looked lovely yesterday can be riddled with weeds in the morning following spring showers. The accelerated growth pattern of weeds isn't the only challenge in the battle against them; their deep roots make them extremely difficult to completely remove. For effective weed control, turn to the experts at TurfPride. Our weed control lawn treatments in Atlanta will defeat the pesky plants, leaving you with a lush, healthy, weed-free lawn.
Disease — How to Prevent and Cure
Atlanta lawns are subject to a number of common lawn diseases and fungi. If your lawn has patches of brown, unhealthy looking grass, that may be a sign of disease. Regular lawn care service in Atlanta from TurfPride will clear up these diseases and prevent their recurrence. We use nutrition, aeration, preventive fungicides, and curative treatments to bring your lawn back to optimal health.
Now's a great time to contact TurfPride to discuss how we can help with your lawn. Stop worrying and call the experts today!